Home page
Installations
Exhibiitions
Editions
Projects
Invitations
Biography
Texts
Links
Contact
For a Landscape of Water
Publics Benches
The Fallen Tree
Collateral Gains
At the end ot the tunnel / Grotesque / Documentary
The Sand Quarry in the Mangrove Swamp
The Landing Place
Dialogue on Rainy Days
The Carter
The Foutain
The Waste land Carbolux
The Camp of l'Ermitage
The Barque
Long-viiew-la-Masure
14 Benches face ą face
Balance
The Home of Alders
+ Bruni/Babarit's website

As A Natural Garden (An InFormal Garden)
French artist Gilles Bruni produces contextual based landscape works. He is particularly interested in the ecology of a place, its inhabitants and their history. He often, therefore, builds collaborations and partnerships with others to make work happen. His art works and field activities have taken him beyond France to Germany, the USA, Canada, Denmark, Italy, Austria and Venezuela. We are delighted that this residency will be his first in the UK.
At Hestercombe he is drawn to the Landscape Garden and the potential restoration of an eighteenth century 'Hermitage'. From 9th July he will become Hestercombe's own 'Hermit'; building a shelter and reacting with visitors. Not only does this work relate to the history of Hestercombe but for the artist it also resonates with today's migrant crisis.


The hermit's walk: on Thursday 12th July and Wednesday 18th July, Gilles led a walk to some of the hidden sites of Hestercombe.


Context


Situation: at the bottom of West Combe.


Dates: July 3rd-8th


Materials brought and form the site:
5 logs, 5 sticks, rope, stones from the quarry close to the Charcoal Burners' Camp, stream with ferns, fallen goat willow
(salix caprea) with old
branches, dead and alive, path of badgers.

Size: 12 m of width, depth and height determined by sight.

Collaboration: Dan McCarthy.


Commentary


Walking away from Hestercombe down the long drive seems an unusual beginning but we are soon walking almost back towards the house after heading up an overgrown track that swings sharp right between the trees. A sequence of three perfectly aligned five bar gates, set mere feet apart, confronts us and I follow Gilles in a bizarre choreography as we go around the first, over the second and through the last. It almost feels like a ritual that has to be performed before we can proceed. A little way further on and the path widens and the view opens. Tall trees surround a small clearing and we stand in their shade with their canopies filtering light down to us. We are in a space
that feels like a natural theatre – past the trees the path continues uphill and into bright sunlight but here the dappled shade is cool and the only noise comes from birdsong and the sound of running water from a hidden stream. This place is beautiful. I absorb all this without conscious comment. I'm thinking we have merely paused on our way to Gilles' next proposed site but find myself at peace here. Gilles says we have arrived. The West Combe stream runs to the left of where we stand and we follow a badger track down a short slope to a ford where the track crosses the water before going up the bank on the other side. Facing us is the tableau Gilles has found. The scene is full of deep shadows and the fitful light finding its way among them creates bursts of luminescent green. A great tree fell here several years, perhaps even decades, ago. Its roots were fed by the stream and still appear to lie within it. The tree fell, but didn't die. Lying just beyond the water, close to us yet separate, new wood grows towards the light. Older growth, moss covered, sits amid a confusion of ferns and the branches of the original tree. It is a spectacular thing and forms the majestic centrepiece of the readymade diorama which Gilles wishes to present. We have just come from a talk by Jo the gardener about the Lutyens/Jekyll formal garden. Gilles observed that the framing of the formal garden by the walls and the pergola separated it from the surrounding countryside, affording it a special significance. He suggests that what he hopes to do here is "frame" the fallen tree on the far side of the stream, perhaps delineate it with a rope barrier as a gallery might protect a valuable artwork, and "voilą!" It's a wonderful play on how the convention of a formal garden's "viewpoint" can be repurposed to frame a natural scene – a mindful juxtaposing of the man-made formal perfection that lies a few hundred metres away with a wilder, untamed and chaotic beauty. There's humour here, but also something much more serious. By "separating" a small piece of a woodland from its surroundings Gilles will encourage us to see it as special, as art - indeed as the work of an artist, yet he's also confronting us with the wry observation that it perhaps required him to bring us to this scene, to show us what was here all along, what will return to the landscape once the rope barrier is taken down, what will continue to exist and evolve long after it ceases to be viewed. We will come to see his work, and could find ourselves sharing his vision.


Dan MacCarthy, july 2018, Hestercombe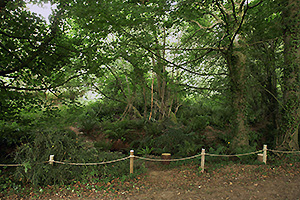 [ + ]
[ + ]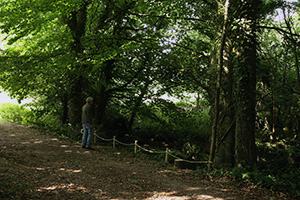 [ + ]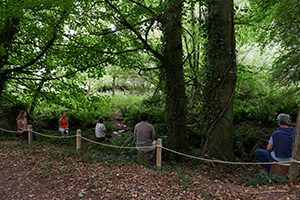 [ + ]
[ + ]